...modularità, trasformabilità, flessibilità, ecocompatibilità ed un sapiente uso dei materiali riciclabili...
contact: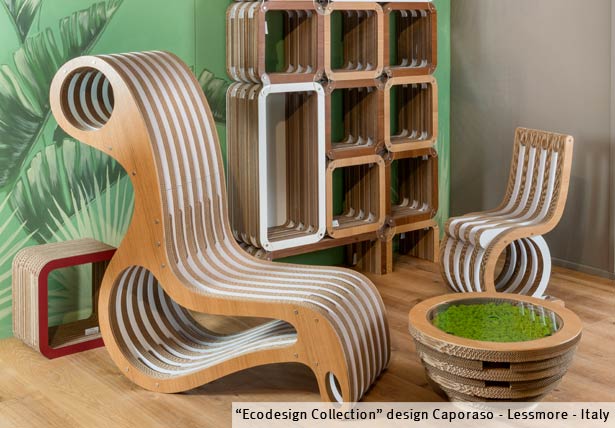 Ecodesign Collection - Mobili in cartone
"More Stender", "Moretto", "More Desk","More", "MiniMore","ToBe", "More_Light", "X2Chair", " Less Chair", "Sedia Varese", "Twist Chair", "Clessidra", "Déjeuner","7Giorni","Mattoni", "2onde" e "Tappo"sono una serie di arredi e mobili realizzati in cartone ecologico e riciclabile. Sono prodotti che seguono la ricerca sul design ecologico e sostenibile condotta dallo Studio Giorgio Caporaso.
Studio Caporaso si occupa con un'attenzione particolare del design di prodotti rispondenti alle tematiche del design sostenibile, con l'obiettivo di creare oggetti esteticamente piacevoli e funzionali, ma pensati in termini di sostenibilità ambientale attraverso la scelta di forme e funzioni che ne ottimizzino al meglio l'utilizzo e la durata e attraverso una corretta e responsabile scelta di materiali.
I progetti elaborati negli ultimi anni sono rivolti indifferentemente all'ambiente domestico, ai luoghi di lavoro e agli spazi e locali per lo svago e per il tempo libero. La ricerca progettuale si è concentrata sulla trasformabilità e flessibilità di prodotti in grado di adattarsi ai continui mutamenti delle abitudini ed esigenze della vita contemporanea.
Il progetto "More" ha vinto il 1° premio del concorso "Tomorrow's design Philosophy: Match-Making Matching tradition with change, cultural heritage with global interface" indetto da parte del BEDG in occasione di 100% Design Futures 2008 a Londra.
La chaise-longue 2onde è stata selezionata per partecipare al "Product Design Competition" del FoID (Festival of Interior Design), organizzato dall'APID (Association of Professional Interior Designers) a Index 2011.
Nel 2012 i prodotti More_Light, X2Chair e Tappo della Collezione Ecodesign Giorgio Caporaso sono stati esposti alla XIII Biennale Internazionale di Architettura di Venezia, per rappresentare una linea "ecosostenibile" all'interno della "Casa Sensoriale Domotica"
ECODESIGN
PRODUCT DESIGN
INTERFACE DESIGN