MORE
2008

PROJECT: modular furniture with unlimited assembly options for living and public spaces
CREDITS
design
– Giorgio Caporaso

International patent application filed
NEWS
"More" at IMM Cologne
19 - 25 January 2009,
the international furnishing show.
Koelnmesse HALL 3.1, STAND Q-010-R-018

More - multiform ideas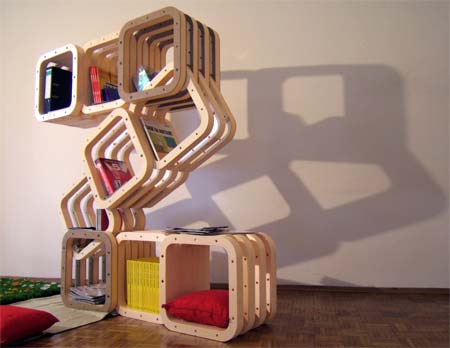 More


More is an extremely versatile system of modular furniture for internal and external environments with multiple functions, enabling one to interpret their space freely and dynamically, changing the face of the home environment or public spaces. It offers an infinite variety of solutions to its users in the widest imaginable circumstances.
Modularity has been the key to this project, it enables one to create furniture of various shapes and dimensions, it can be used for different contexts, starting with a few base elements that are easy to assemble.
The project centred around the theme of transformability starting from the design of a simple unit, and in the same time close attention was paid to experimenting with new tactile, visual, aesthetic and chromatic effects.
The furniture can serve as shelving, a resting platform, display or even as a seat. It can act as a suspended wall unit, an open bookcase against the wall, or it can be used as a dividing wall to separate the spaces in a room or other environments, thanks to the innovative possibility whereby it can be anchored or suspended from the ceiling.
More is the response to everyday life that demands an ongoing flexibility of spaces and adaptability of furniture to meet the ongoing changes in life style
The product is based on the use of units which can be readily combined without needing any special or complex equipment and which can be built up as desired, so providing highly versatile and interesting solutions which are not only aesthetic, but - given its self-supporting nature - also functional.
One can combine the base elements as desired, using the materials, finishes and colours on disposal with total freedom, expressing individual creativity and taste for personalizing ones environments.
Starting from a single unit, one can construct many different shapes with an infinite amount of possibilities according to the space one wishes to enhance. Each element measures 45 x 45 x 5 cm. and thanks to its specific dimensions, it can be used in any way to create resting platforms, seating and containers of various deepness, depending on the way in which the elements are assembled using the threaded ropes or pins that are all parts of the system.
There is no limit to the number of ways in which the units can be assembled. The creations are never permanent and can easily be changed, as the finish of each unit enables it to be used as a final element. Linear, corner and overhang compositions are possible.
PRODUCT DESIGN
INTERFACE DESIGN