Lessmore cardboard furniture in the Red Room of the Arteidea Gallery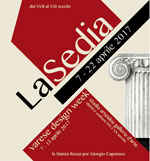 The Chair" Exhibition | Galleria Arteidea | 8 – 22 April 2017
via Carlo Giuseppe Veratti, 28 | Varese | Italy
Vernissage 8 April 11 a.m.
"The Chair" is the protagonist of the exhibition organized by Arteidea Gallery for the second edition of the Varese Design Week. There will be some examples of historic chairs from 1600 to 1800 and modern chairs by Josef Hofmann, Michael Thonet, Gerrit Rietveld, Carlo De Carli and Giò Ponti, Tomaso Buzzi, Piero Fornasetti, Vico Magistretti, Andrea Branzi, Marcello Morandini and Mario Botta.
The Red Room of the Gallery, specializing in art and design, will be dedicated to the EcoDesign Collection by Lessmore, the line of sustainable furniture designed by Giorgio Caporaso.
The exhibition will feature paintings and sculptures of the 19th and 20th centuries depicting the chair.
In the courtyard of Via Cattaneo: installation site specific "Varese Chair" by Giorgio Caporaso, made by Faberlab, Brusamolin and Gilegno.

For press folders and high resolution images send an e-mail to: