Milan Design Week 2012 - Autoproduzione a Milano: 202 designers introduce themselves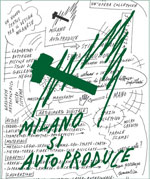 More and Tappo at Autoproduzione a Milano - Misiad 2012 - Milanosiautoproducedesign
Cattedrale della Fabbrica del Vapore, via Procaccini 4 – 20154 Milano

17 - 22 April 2012
opening hours 10.00 – 20.00
Press Conference with the participation of Stefano Boeri, Councilor of Culture, Fashion and Design of the City of Milan
Monday 16 April at 12 noon
Inauguration: 17 April from 19.30 to 24.00
On trumpet: Raffaele Köhler
Studio Caporaso Design presents the small table " Tappo", with internal illumination available in cardboard, FSC-certified wood or bamboo.

During the 2012 Milan Furniture Fair, the City of Milan is pleased to present the exhibition "Autoproduzione a Milano. 202 autori si autopresentano", the first census of self-produced design in Milan. The exhibition is jointly organized with the Department of Culture of the City of Milan and Misiad (Milanosiautoproducedesign), an association founded by Camillo Agnoletto, Laura Agnoletto, Cesare Castelli and Alessandro Mendini which aims to promote excellence in self-produced design and small-scale productions.
-

Press-Release "Autoproduzione a Milano"
-

Invito alla mostra "Autoproduzione a Milano"
For press folders and high resolution images send an e-mail to: