PEFC Italia in collaboration with Giorgio Caporaso launches the call to action of the international campaign "Forests Are Home"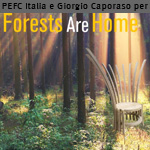 Milano Design Week 2022 | PEFC Italia and Giorgio Caporaso for "Forests are Home"
June 6-12, 2022
Listone Giordano Arena | via Santa Cecilia 6, Milano | M1 San Babila

PEFC Italia announces the collaboration with Giorgio Caporaso to invite designers and companies to create sustainably sourced wood furniture products. The furnishings designed in PEFC wood by Giorgio Caporaso will be presented on Wednesday 8 June during the event "The sustainability and multifunctionality of wood" at the Spazio Arena in Listone Giordano.
The sustainable "living room" created in collaboration with PEFC Italia in certified wood includes a chair / armchair, a coffee table, a coffee table that becomes a stool and a modular bookcase. The companies Stilwood, Artigian Mobili, Gilegno, the Casa del Mobile, and Faberlab collaborated in the realization. Giorgio Caporaso is also the art director and chief designer of Faberlab.
Press Preview
6 June - 11.30 am
Sustainability and multifunctionality of wood
Space Arena by Listone Giordano | Via Santa Cecilia 6, Milan
June 8, 2022 - 5.00 pm
speakers
Andrea Margaritelli - President of the G. Giordano Foundation
Francesco Dellagiacoma - President of PEFC Italy
Francesca Dini - PEFC Marketing
Giorgio Caporaso - Architect and designer
The Boschi Di Stefano Museum-Home at number 15, Via Giorgio Jan, has been open to the public since February 2003. In these premises – once inhabited by the married couple Antonio Boschi (1896-1988) and Marieda Di Stefano (1901-1968) – about three-hundred pieces are exhibited selected from over two thousand works, donated to the City of Milan in 1974.
The collection – which comprises paintings, sculptures and drawings – is an extraordinary testimony to the history of Twentieth Century Italian art from the first decade to the end of the Sixties.
For press folders and high resolution images send an e-mail to: